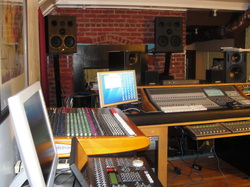 The Studio, located in the heart of Little Five Points is a mix of analog and digital technology.
A Toft ATB console and preamps by Amek, Focusrite, Avalon and Chandler form the recording chain.
Compressors by Empirical Labs, Amek, Universal Audio, Dbx, Avalon and Drawmer are available during recording or as analog inserts in Protools during mixing.
Mixing is done using the Sony DMX-R100 console with 24 AES inputs fed directly from Protools.
A 24 channel iZ Radar and and 8 Track 1" Studer A80 are also available.
The microphone collection includes Neumann, Gefell, Lawson, AKG, Soundelux, Sennheiser and Shure.



---